Hello :)
My friend was showing me photos of a bag she bought in the sale from River Island.
The bag is black and has gold stud details on the front. Its absolutly gorgeous and I wanted to recreate the design in the only way I know how - through Nail Art!!!
Here is the famous bag;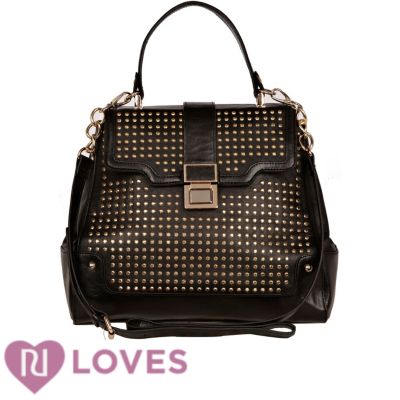 Afew weeks ago I went on a spending spree on ebay and luckily I had bought some gold studs!
The nails were actually easy to create, just very time consuming and fustrating fiddling with the gold studs. I painted all the nails black and with a toothpick I licked the end (not recommened as now all I can taste is nail polish!!) and picked up the gold stud, which I then placed on the nails in a line.
These nails make me want to ride a motorbike and put on some leathers! How about you?! I adore them and think they are my favourite nails of all time (so far!)
I have now started a shop online where you can purchase the nails that I make at really reasonable prices. All the nail sets come with glue so can be worn straight away!
It is located on a website called etsy, and my shop name is queenlizard45uk.
As always, if you've enjoyed reading my blog please comment and click the follow button on the right hand side.